About Us
We are committed to helping people with their fitness needs. We do this by providing excellent customer service without any pressure. We also pride ourselves on having the best selection in sports nutrition in Ottawa and a great selection of fitness equipment.
All our staff are certified personal trainers with a keen interest in health and fitness, so they take the goal of helping you meet your goals very seriously. So what are you waiting for? Come check us!
How it all began for Curd Hos and Fitness Warehouse.
I started working out when I started college. I wanted to lose some weight. As with any typical young guy I wanted to look better for the opposite sex and build some self esteem.
As I started to spend more time in the gym I found myself enjoying the benefits much more than I had expected. Although I really didn't know what I was doing I worked very hard. I started to read more and more..anything I could get my hands on. Soon I had really changed my physique..I found myself striving to get stronger and stronger.
In fact the stronger I got the more I wanted..my specific favorite was the bench press.
Skipping ahead 15 years I find myself with a Retail Fitness Store in Orleans (April 2000) and Our Own Supplement Line called NeoGenixx .
Along the way I competed in the Bench Press..winning at the Provincial level and capturing the Heavyweight Canadian Title in 1999.
What I am most proud of is the fact I did it Drug free, using all that I have learned in the way of Training, Nutrition, and Supplementation.
I have given seminars at the Mitell, Telesat, private gyms and schools.
To this day I continue to train the bench and learn as much as I can. As I deal with customers and clients daily I remember what it was like almost 20 years ago when I first started working out not knowing what to do.
I take it upon myself to do what I can to help others as they go about their Health and Fitness Goals. I feel if I can help people achieve their objectives and save them from wasting time, energy, emotions ,and money, then my business will truly be successful and have real meaning .
If there is anything we at Fitness Warehouse can do..please let us know
Yours In Health
Curd Hos
---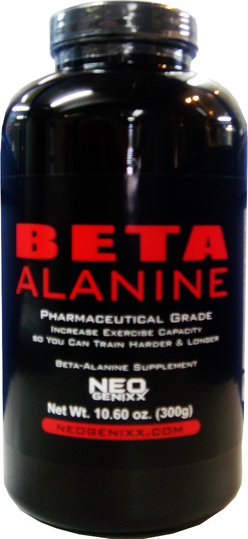 Now Available NeoGenixx's Beta-Alanine
Boost Explosive Muscular Strength & Power Output.
Increases Muscle Mass
Boosts Muscular Anaerobic Endurance
Increases Aerobic Endurance
Increase Exercise Capacity so You Can Train Harder & Longer
300 grams (2-Month Supply)
Call 613-830-9300 or 888-246-2677 to get yours today
Click here to Order Online today!